Learning Enriches Both Individuals and Society
I strongly believe that as long as people continue to learn and keep the capacity to be sensitive and engaged by life, age will never be a determinant in how fulfilling life can be.
The once established life-path of graduation from university followed by work at a single company until retirement is no longer applicable for many people today. Shouldn't we regularly continue to cultivate ourselves in multiple ways, to find a new role to stay involved within society regardless of whether we are working?
To do this, we must take an active approach to enrich our learning with new ideas and in various disciplines. It is with the idea of supporting such learning that I founded the Global Life Learning Center (GLLC). Over thirty years ago, I coined the phrase "Life Learning," and it has since been adopted into common usage in Japan, demonstrating that the concept of "Life Learning" has become widely recognized while also developing in breath and depth of meaning.
It is my hope that in times of great change, "Life Learning" will lead to the development of programs and activities that are useful to society while at the same time offer people a way to establish themselves as thoughtful and responsible individuals. I strongly believe this will help cultivate the talented individuals that will support the Japan in the future.
Our foundation is based on this philosophy of developing social programs and cultivating individual talent, and we will continue to lead the way in supporting "Life Learning," which serves as the cornerstone for overseeing diverse projects to support companies, organizations and individuals.
Taeko Matsuda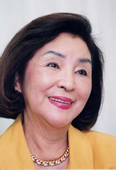 former president
Foundation of Global Life Learning Center